CentOS 8 Released - Features And Download ISO Images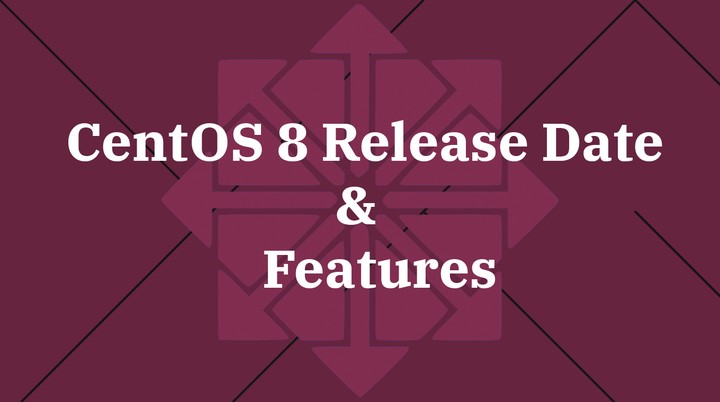 CentOS 8 was released on September 24th, 2019 by the CentOS Project. It is derived from RHEL 8 which was released on May 7th, 2019.
Red Hat Enterprise Linux 8 is based on Fedora 28 and comes with Linux kernel version 4.18. RHEL 8 has introduced Application Streams which provides all the applications you want to install and run in userspace and separating you from core kernel space.
Architectures
CentOS 8 is available for below architectures,
x86_64
ppc64le (Little Endian)
aarch64 (ARM 64, ARMv8)
Features
Since CentOS 8 is based on Red Hat Enterprise Linux 8, we have below features in this release.
The Cockpit is now available by default to manage servers.
Packages are available through the two main repositories: BaseOS and
Application Stream (AppStream)
The new version of the YUM is based on DNF. This version is compatible with YUM v3 (RHEL 7)
PM v4.14 now validates the whole package contents before starting the installation
XFS now supports shared copy-on-write data extents
Wayland is the default display server, replacing the Xorg server
Support up to 4PB of physical memory
nftables replaces iptables as the default network filtering framework
Python 3.6, PHP 7.2 and Nginx 1.14
Download CentOS 8
The CentOS Project used to offer only stable release for public. But, this time, there are two distribution in this new release, namely CentOS Linux and CentOS Stream.
CentOS Linux
CentOS Linux is a stable release, derived from Hat Enterprise Linux. It is fully compatible with its upstream product (RHEL 8).
This release is a standard stable release.
Download CentOS Linux 8
CentOS Stream
CentOS Stream is a rolling release. It is a midstream between upstream development in Fedora Linux and the downstream development for Red Hat Enterprise Linux. This released will be used for the next minor release of RHEL.
Download CentOS Stream
Conclusion
What are you waiting for? go and try CentOS 8 today.